What is PH? – Power of hydrogen
 What's really being measured is the concentration of hydrogen (H) ions — the more hydrogen ions there are, the more acid the thing being measured is.
An anion (−) (AN-eye-ən), from the Greek word ἄνω (ánō), meaning "up", is an ion with more electrons than protons, giving it a net negative charge (since electrons are negatively charged and protons are positively charged).

A cation (+) ( KAT-eye-ən), from the Greek word κατά (katá), meaning "down", is an ion with fewer electrons than protons, giving it a positive charge. Since the charge on a proton is equal in magnitude to the charge on an electron, the net charge on an ion is equal to the number of protons in the ion minus the number of electrons.
Sources of Acidity
Acidity in soils comes from H+ and Al3+ ions in the soil solution. While pH is the measure of H+ in solution, Al3+ is important in acid soils because between pH 4 and 6, Al3+ reacts with water (H2O) forming AlOH2+, and Al(OH)2+, releasing extra H+ ions. Every Al3+ ion can create 3 H+ ions.
Rainfall: Acid soils are most often found in areas of high rainfall. Excess rainfall leaches base cation from the soil, increasing the percentage of Al3+ and H+ relative to other cations. Additionally, rainwater has a slightly acidic pH of 5.7 due to a reaction with CO2 in the atmosphere that forms carbonic acid.
Fertilizer use: Ammonium (NH4+) fertilizers react in the soil in a process called nitrification to form nitrate (NO3–), and in the process release H+ ions.
Na+, K+, Ca2+, Mg2+ and Cl cause salinity.
Plant root activity: Plants take up nutrients in the form of ions (NO3–, NH4+, Ca2+, H2PO4–, etc.), and often, they take up more cations than anions. However plants must maintain a neutral charge in their roots. In order to compensate for the extra positive charge, they will release H+ ions from the root. Some plants will also exude organic acids into the soil to acidify the zone around their roots to help solubilize metal nutrients that are insoluble at neutral pH, such as iron (Fe).
Weathering of minerals: Both primary and secondary minerals that compose soil contain Al. As these minerals weather, some components such as Mg, Ca, and K, are taken up by plants, others such as Si are leached from the soil, but due to chemical properties, Fe and Al remain in the soil profile. Highly weathered soils are often characterized by having high concentrations of Fe and Al oxides.
Sources of Basicity
Basic soils have a high saturation of base cations (K+, Ca2+, Mg2+ and Na+). Alkaline soils are characterized by the presence of carbonates.
Too Much Acidity
Plants grown in acid soils can experience a variety of symptoms including aluminium (Al), hydrogen(H), and/or manganese(Mn) toxicity, as well as potential nutrient deficiencies of calcium (Ca) and magnesium(Mg).
Aluminium toxicity is the most widespread problem in acid soils. Aluminium is present in all soils, but dissolved Al3+ is toxic to plants; Al3+ is most soluble at low pH, above pH 5.2 little aluminum is in soluble form in most soils. Aluminium is not a plant nutrient, and as such, is not actively taken up by the plants, but enters plant roots passively through osmosis. Aluminium damages roots in several ways: In root tips and Aluminium interferes with the uptake of Calcium, an essential nutrient, as well as bind with phosphate and interfere with production of ATP and DNA, both of which contain phosphate. Alminium can also restrict cell wall expansion causing roots to become stunted.
Below pH 4, H+ ions themselves damage root cell membranes.
In soils with high content of Manganese (Mn) containing minerals, Manganese toxicity can become a problem at pH 5.6 and below. Manganese, like aluminum becomes increasingly more soluble as pH drops, and Manganese toxicity symptoms can be seen at pH's below 5.6. Mn is an essential plant nutrient, so plants transport mangnese into leaves. Classic symptoms of manganese toxicity are crinkling or cupping of leaves.
Why is pH is so important in gardening? Because soil acidity or alkalinity directly affects plant growth. If a soil is too sour or too sweet, plants cannot take up nutrients like nitrogen (N), phosphorus (P) and potassium (K). And plants need specific amounts of those compounds–just like we need proteins, carbohydrates and vitamins to grow–to thrive and fight off disease and stress. Let's look at it another way…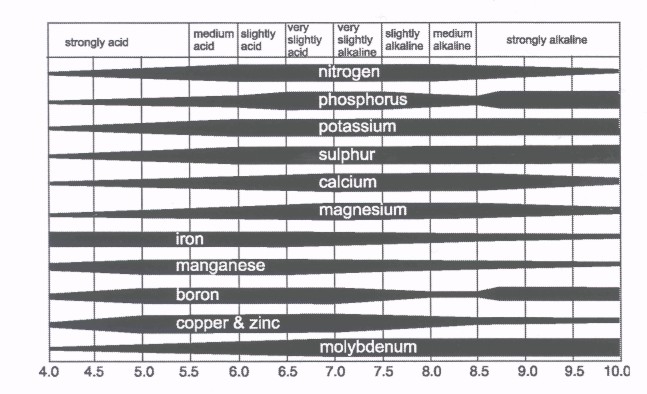 Most nutrient deficiencies can be avoided between a pH range of 5.5 to 6.5, provided that soil minerals and organic matter contain the essential nutrients to begin with.
Plant Preferences for pH
Very acid
(pH 5.0 to 5.8)

Moderately acid
(pH of 5.5 to 6.8)

Slightly acid
(pH 6.0 to 6.8)

Very alkaline
(pH 7.0 to 8.0)

azalea
blueberry
celeriac
chickory
crabapple
cranberry
eggplant
endive
heathers
huckleberry
hydrangea
Irish potato
lily
lupine
oak
raspberry
rhododendron
rhubarb
shallot
sorrel
spinach beet
spruce
wild strawberry
sweet potato
watermelon
white birch
bean
begonia
Brussels sprouts
calla
camellia
carrotcollard greens
corn
fuchsia
garlic
lima bean
parsley
pea

peppers
pumpkin
radish
rutabaga
soybean
squash
sunflower
tomato
turnip
viola

asparagus
beetbok choy
broccoli
gooseberry
grape
kale
kohlrabi
lettuce
mustard
muskmelon
oats
okra
onion
pansy
peach
peanut
pear
peony
rhubarb
rice
spinach
Swiss chard
acacia
bottlebrush
cabbage
cauliflower
celery
Chinese cabbage
cucumber
date palms
dusty miller
eucalyptus
geranium
oleander
olive
periwinkle
pinks
pomegranate
salt cedar
tamarisk
thyme
 Many environmental factors, including amount of rainfall, vegetation type and temperature can affect soil pH. Here are some general guidelines:
Areas with heavy rainfall and forest cover have moderately acid soils.
Soil in regions with light rainfall and prairie cover tend to be near neutral.
Areas of drought and desert conditions tend to have alkaline soils.
The pH of cultivated and developed soils often differ from that of native soil. During construction, for example, the topsoil may be removed and replaced by a different type. Hence, your garden soil pH could be very different from your neighbor's.
To RAISE the soil pH
(Translation: If you have acidic soil)
If your soil is too acid, you need to add alkaline material. The most common "liming" material is ground limestone. Ground limestone breaks down slowly, but it does not burn plants like "quick lime" does. Apply it to the garden and lawn in the fall to allow time for it to act on soil pH before the next growing season. A rule of thumb for slightly acid soils: apply 5 pounds of lime per 100 square feet (say a 5 x 20-foot raised bed) to raise the pH by one point.
Apply limestone: 5 pounds per 100 square feet
Applying wood ashes also will raise soil pH. Wood ashes contain up to 70 percent calcium carbonate, as well as potassium, phosphorus, and many trace elements. Because it is powdery, wood ash is a fast-acting liming material. Be careful, a little goes a long way. Limit your application to 2 pounds per 100 square feet and only apply it every other year in a particular area.
To LOWER the soil pH
(Translation: If your soil is too alkaline)
In this case, you need to add a source of acid. Options include pine needles, shredded leaves, sulfur, sawdust and peat moss. Pine needles are a good source of acid and mulch. Peat moss with a pH of 3.0 is often recommended as a soil additive. Before you use it though, consider the other options, because peat moss is nutrient-poor, expensive, and it's a nonrenewable resource.
Podcast: Play in new window | Download