As a homesteader and a gardener a good deal of the mental energy expended by myself on the homestead is related to solutions.  If I examine the past week I can name probably 5 situations where a solution was needed to optimize a situation.
Notice I don't say problem.  Problem has taken on a bad connotation in our society and especially amongst homesteaders.  Amongst permaculturists the phrase:  The problem is the solution has become almost a mantra.  Unfortunately sometimes its said without any forethought and very little compassion.  Having recently gained my PDC I have given the problem is the solution statement a lot of thought.  Here's my view of that statement summarized in cartoon format: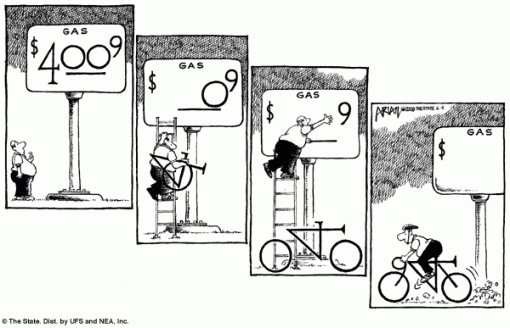 Now its just a cartoon so I mean you can't analyze it too deeply.  Where did the guy get the ladder and helmet?  The bike has no chain – what powers it, hope and love?  For some it just doesn't answer the problem but for others the simple meaning is this:  If you don't like something either change yourself or your perception of the problem. 
Traditional problem solving works like this:  Problem, root cause, countermeasure, verification.  Of course there are other steps in there. 
Let's look at a situation I recently faced in light of the two methods.  In my chicken tractor I built an elevated floor in the protected part.  This floor holds the feeders and provides a dry spot for the sebrights to hunker down.  The PROBLEM is that they wiggle underneath and lay their eggs and checking for them or gathering them involves moving the entire chicken tractor.  Which is fine of course.  I have to move it anyway but the eggs frequently get crushed by moving the tractor.  The root cause is that they floor is too large and I have no easy access to the area beneath it.  The countermeasure is to remove enough floor so that I can see and gather the eggs regularly.  Done.
 The problem=solution method just doesn't work here.  I think this leaves people who are fond of or just learning about permaculture distracted, disappointed and confused.  Why doesn't it work.  I can't make it fit.  The real issue with me is the way it is stated and the failure to combine it with other problem solving methods.  And I problem solve for a living so I think about these things a lot.
Now let's use the Bill Mollison example of slugs.  Let's say theoretically I had a problem with leaf predation.  My root cause is too many slugs so my solution must (or rather could) be to kill slugs.  But with the problem=solution way of thinking the slugs are a food source for ducks.  And that works until you get to a property where you can't keep ducks. 
Instead of using the A to B method of root cause analysis or the A equals B method of problem=solution why not combine them?  What would that look like?  I think it looks perfect. 
So when solving a problem the first thing you should ask is not for a problem statement but rather:  IS THIS A REAL PROBLEM OR A PERCEIVED PROBLEM?  So my chicken tractor problem was a real problem.  I was wasting food and I could not get the eggs.  But the slug problem is a perceived problem (as long as I can get ducks (or want them for that matter)). 
In my view 98% or more of pest and weed "problems" are not problems per se but rather problems of perception.  You have to change your perception to give the problem value.  If you look at anything natural
A real problem is solved with normal problem solving.  Fishbone diagrams, root cause analysis, permanent countermeasures. 
But a perceived problem can only be solved by changing our way of thinking.