I didn't have a podcast ready for Wednesday since I spent so much time researching tomorrow's topic so I figured I would run down a quick list of plants that can essentially be grown from trash from your kitchen. 
1.  Pineapples – When you lop off the top greenery with a piece of the rind and fruit you can save that.  Bury the fruit and rind completely and allow enough of the greenery sticking out of the soil.  It will grow you a new pineapple!  I had success with that method but you can also trim away all the rind and the fruit from the crown, root the crown and then plant it.  Picture below from www.rickswoodshopcreations.com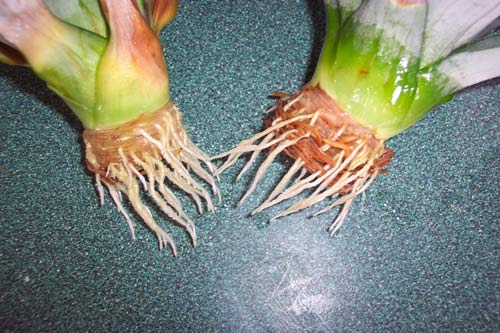 2.  Green onions – you can harvest perpetual green onions in a few ways.  You can snip the tops and leave the root/bulb in the ground and it will grow back.  But if you buy them from the grocery simply snip off the green part and then bury the bulb in your garden.  I've got three growing right now from this method.
3.  Garlic – pretty simple – bury any cloves you can't use in time.
4.  Potatoes – these are a little more complex.  Most potatoes are sprayed to prevent them from sprouting (yuck) but given a good wash and enough time and even these will sprout.  Once you see eyes cut the potato into chunks and bury them eyes up.
5.  Celery – this is one I was unaware of until this year but after you cut off the stalks you intend to use, bury the bottom crown and grow more!  Photo from www.thefrugalfamilylife.com.
6.  Seeds – you never know really what you will get but its always fun to plant seeds you removed from produce!
7.  Cuttings – don't ever ever ever throw away grape vine cuttings.  Last season's growth is especially good for growing more grapes!  Last season's growth is usually reddish brown and has no flaky bark.  Cut it to a length that includes three bud nodules.  Place the nodule end closest to the original plant root into the ground and wait – voila – new grape!